Here in Santa Cruz County and surrounding areas near Aptos, CA we face a number of different challenges. When it comes to keeping our homes safe and water proof, the elements are constantly fighting against us. Whether you live right on the shoreline in Aptos Ca, or up in the hills of Scotts Valley Ca, each location has its own variables. Redwood Roofing and Repair is a professional roofing company that offers few useful tips to get more life out of your roofing system.
Redwood Roofing and Repair offers inspections for your roof to ensure it is maintained properly.
Give us a call today to schedule a time that works for you.
One of the most important things that can be done to prolong the life of most any roof is to keep it clean. This might mean a little bit of yearly maintenance if you live under or around abundant trees and plant life so often found in the Aptos CA area. As a local roofing company in Santa Cruz county, we have seen our fair share of plant problems on clients roofs.  The extra effort will be well worth it in the long run. As small branches and leaves build up they will keep the rain from draining off freely.
Keep trees trimmed in Santa Cruz or your roof damage may occur.
Keeping trees trimmed above your roof will also save you from fallen branches puncturing your roof. See the picture of a roof in Aptos, Ca where a branch punctured a hole after falling in a wind storm. Limbs can also rub holes through roofing systems as they rest on the roof, especially when the wind blows.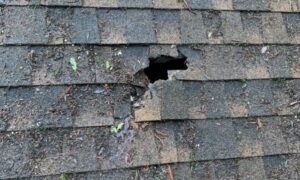 Prolong your roof's life by calling Redwood Roofing and Repair for a roof inspection.
We are a licensed roofing company in the Santa Cruz Ca area.
It is especially important to clean behind chimneys, around skylights, in rain gutters, around pipe flashings or anywhere you might find metal. A cool wet blanket of leaves or debris will start to rust out the flashings meant to protect your home from water damage. If this happens, it is important to call a quality roofing company such as Redwood Roofing and Repair to fix these damaged flashings. This blanket of leaves and debris  will also promote moss growth over time which may damage your roof and also impede water from draining. Check out this shingle roof in Aptos, Ca.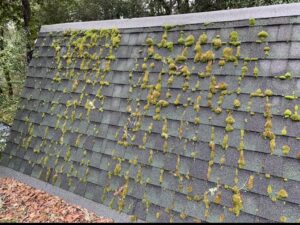 The amount of rain we receive here in Santa Cruz county can create streams of water pouring off your roof. Where two roofs come together forming a valley you will get the most amount of water flowing. If these valleys are blocked with debris the excess rain often shoots sideways and can find a way inside the home. This is especially true in tile roofing systems.
Redwood Roofing and Repair is a local roofing company in Santa Cruz
With over 20 years in the business and a local roofing company in Aptos, CA, Redwood Roofing and Repairs has seen many of these problems in customers roofs. A little cleaning and maintenance today will help prevent these problems in your home.  See the picture of the tile roof that was leaking in Capitola, Ca only because of dirt and leaves built up in the valley.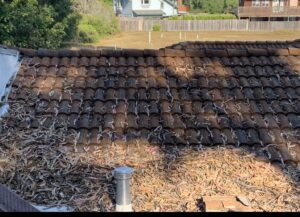 Another easy maintenance item to look for are any exposed fasteners that are pulling up or seemingly ajar. They should be removed and replaced. Nail heads can be covered with a dab of caulk. Make sure the caulk is made for roofing applications. Screws should be replaced with a screw with a larger shank, ensuring that it will get more bite and will hold fast over the years. All exposed screws should have neoprene washers that will keep out the water.
Redwood Roofing and Repair can help you determine if you need to repair or replace fasteners on your roof.
We are a licensed roofing company in the Santa Cruz Ca area.
Look for failing fasteners on metal trim pieces, near pipe protrusions and around skylights and chimneys.  On metal roofs with exposed fasteners look for rust marks, lifted panels or anything that seems out of place. Often times screws are the first things to go on a metal roof with exposed fasteners. Replacing them can easily buy another 10 years of life without leaks.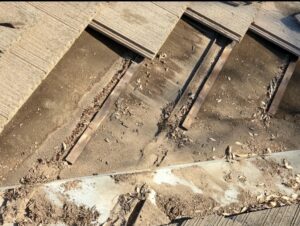 Redwood Roofing and Repair is a professional, knowledgable roofing contractor in Aptos California
Give us a call today to schedule a time that works for you.